Our welcome class at the court festival with Ms. Zeidler and Mr. Gerlach (title of the picture)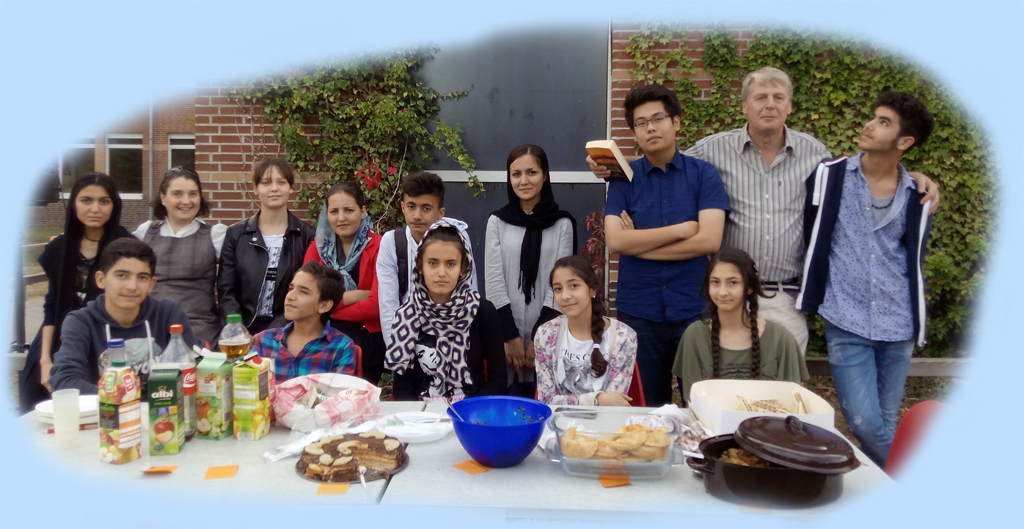 Project week October 2016

Project week October 2017
Our project: Dancing to connect refugees - dancing connects Brandenburg youth and young refugees from all over the world.

Hier das Zertifikat.
Our project: Architecture in Potsdam - an art project
Our school is known for the migration of foreign students.
In a migration class, we offer classes in all subjects for pupils in grades 7-9 with different German skills.
From the survey, I was able to determine that almost all immigrant students already feel integrated, despite the shorter time in Germany. Together with the students we talked about the Steubenball, as more than half of the immigration class were present. The girls were very fascinated by it and admitted that they liked to speak German and even made contact with the older students.
Of course, the students don't feel quite comfortable in Germany yet, but what really fascinated me was that everyone answered the question about the future, wishes and goals. The survey showed that most would like to become a police officer.
In general I can say that I felt very comfortable in the class, we could laugh together and ask each other questions. It has been seen that immigrant students want to master the language perfectly and they can do it.
I wish all students good luck in the future!
Elena
Immigrant students
Pupils with a migration background also learn at our school.
These students speak the language almost perfectly and are already attending regular classes. Young people feel completely integrated. They have German friends, go partying, learn together, but still don't forget their own traditions, holidays and language.
They feel treated the same and see no difference in the fact that they were born somewhere else.
I met a couple of teenagers to find out their own opinion about the school.
I have created a small video and wish you a lot of fun!
My own experience
I can say that I also had problems with the language at the beginning. In order to understand what is going on around me, I tried to learn the language as quickly as possible.
I found German friends and I slowly dared to speak German.
I feel incredibly comfortable at school. I am treated exactly like the others.
The school integrated me very quickly and did everything I could to go there with joy almost every day.
I assure you that your child will also feel comfortable with us. It should find out for yourself.
You are cordially invited to the open days.
Elena
Schoolgirl class 13, 2013